Map coordinates of pitching area are: (lon.) 51.99806, (lat.) -1.403697  SP 441041 232984
Caravan & Motorhome Club Site Directory 2017/18 no: 1273 (p440)
Please note: The phone number has changed since this went to press to 07722 918265
Link to Caravan & Motorhome Club CL Entry
Please click here
Newton Grove lies to the south east of the village of South Newington in Oxfordshire. This land in its present form was created from the larger arable field still remaining to the East and South. It has been planted with mostly native species and cared for by Newton Sewel Ltd. The site including the wooded areas extends to 1.8 acres of which the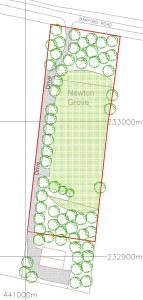 maintained grassed pitching area is 0.8 acres. There has been a variety of wildlife that visit over the years from the more common rabbits, foxes, partridge, pheasants, jays, ducks, sparrow hawks, kestrels, buzzards to red kite, roe and muntjac deer, stoats and weasels. Images of some can be seen in the photo gallery.
Newton Grove is an ideal base for exploring the beautiful villages and historic towns of North Oxfordshire and the Cotswolds with numerous leisure and cultural activites to be found in Chipping Norton, Banbury and further afield in Oxford and Stratford. If you are a serious shopper you can take a trip to the popular Bicester Village. With easy access to the M40 you are only an hour and a half from London and an hour from Birmingham (so come and enjoy a beautiful piece of countryside).
The image (to the right) outlined in red is of the site. There is a Google aerial image of the site below this. To see the location on a map please go to the "location" page or click here.
There is mains drinking water on site but there are no eletcric hook ups, we do have a one Solar Unit that is available to vistors.  Although no free Wi-Fi is available on site there is good mobile phone reception on most networks. Vodafone and O2 have 4G reception, Three and T-Mobile/Virgin also have 4G . Dogs are allowed only, if they are quiet and kept under control at all times.
South Newington is a small village that lies approximately 5 miles (8km) south west of Banbury on the south bank of the River Swere. South Newington retains the character of a small, thriving village. Part of the village lies in a conservation area which was designated in 1989.
The Village church is late Norman and is one of only fifteen churches in England to be dedicated to St Peter ad Vincula. The church has become famous for the well preserved wall paintings which are nationally important.
The Village offers a network of footpaths for walkers, fishing at local lakes, and a freehouse in the village also offering meals.