EVENTS NEAR NEWTON GROVE CL 2017
within 25 miles (mileage "as the crow flies" from Newton Grove CL)
---
Church Farm Field * Epwell, OX15 6LD * Open Garden for NGS, http://www.ngs.org.uk/gardens/find-a-garden/garden.aspx?id=20133 * Sunday 23 April, Monday 29 May, Monday 28 August, Sunday 8 October (2 - 6pm)* Woods, arboretum with wild flowers (planting started 1992), over 90 different trees and shrubs in 4 acres. Paths cut through trees for access to various parts
Broughton Grange * Broughton, OX15 5DS * Open Garden for NGS * Sunday 30 April, Sunday 23 July, Sunday 10 September (10am - 5pm) * 3.5 miles * An impressive 25 acres of gardens and light woodland in an attractive Oxfordshire setting. The centre piece is a large terraced walled garden created by Tom Stuart-Smith in 2001 - http://www.broughtongrange.com/home.html
Arts Week * South Newington * 212 Penny Carey, Wardens Post Studio, Moor Lane, OX15 4JQ * There are lots more open in the area if you wish to go further afield see https://www.artweeks.org/festival/map
Daylesford Farmshop & Cafe (organic farm) * Kingham, GL56 0YG * MON – WED 8am – 5pm, THU – SAT 8am – 8pm, SUN 10am – 4pm, Summer Festival 21st May * 13 Miles
Barton Abbey * Steeple Barton, OX25 4QS * 7 Miles * Sunday 28 May (2 - 5pm)* http://www.ngs.org.uk/gardens/find-a-garden/garden.aspx?id=1371 * 15 acre garden with views from house (not open) across sweeping lawns and picturesque lake. Walled garden with colourful herbaceous borders, separated by established yew hedges and espalier fruit, contrasts with more informal woodland garden paths with vistas of specimen trees and meadows. Working glasshouses and fine display of fruit and vegetables.
South Newington * Village Open Gardens in aid of Katharine House Hospice - 30 min walk to visit all! - South Newington House, Bush House, Springfield House, Old Bakehouse, College Farm, Wingate Cottage, The Little Forge * Teas will be availiable in The Village Hall * 27th & 28th May 2-5pm. All the gardens, teas, plant stall and the local artists in the church will feature on a hand out map which will be provided - or Click here to down load the map below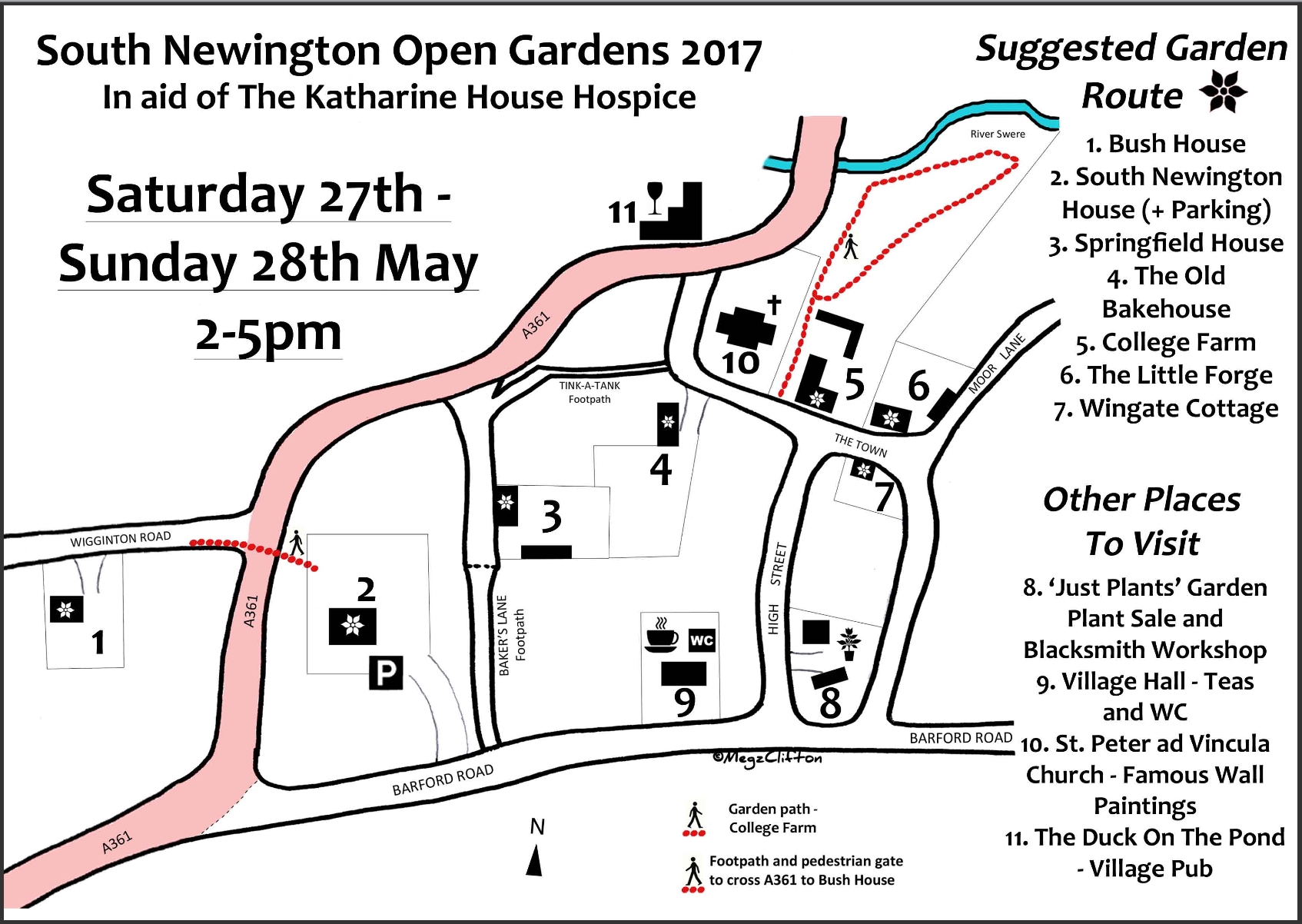 Chipping Town Festival * Town Centre, Chipping Norton * June (to be advised) * 8 Miles *
Stonesfield 45th Folk Dance Weekend * Stonesfield Village Hall, Field Close, Stonesfield, Oxfordshire OX29 8EF * 12 Miles * 9th June- 11th June
Banbury & District Show * Spiceball Park, Banbury * 11th June 10.30 – 4.30pm * 8 Miles *
Shutford Summer Fesival * The Manor House Park * Village Festival, OX15 6PG * 17th June *
South Newington * Mid-Summer Picnic * 24th June from 5pm followed by a concert of light-hearted music in South Newington Church at 6.30 pm. * walking distance *
Meadow by the babbling brook kindly provided by Julian Barbour, please bring your own picnic. Music concert kindly provided by Consensus Vocalis, a group of highly skilled singers who are performing for free to raise money for South Newington Church funds. Entry to picnic and concert £15 adults including a free interval glass of wine or soft drink. Children Free.
Bloxham Steam Fair (Banbury Rally) * 24th & 25th June * Bloxham * 2.5 miles
Music at the Crossroads * Hook Norton Brewery, Hook Norton, OX15 5NY * 30th June- 1st July * 5 miles * http://www.hookymusic.co.uk/
The Last Cornbury Music Festival * Great Tew Park * 7th - 9th July * 3 miles
Silverstone * Silverstone Circuit, Towcester, NN12 8TN * 2017 Formula 1 British Grand Prix 14 Jul 2017 - 16 Jul 2017 * http://www.silverstone.co.uk/ * 18 Miles *
Broughton Castle * Broughton, OX15 5EB * 3.5 miles * http://www.broughtoncastle.com/ * Open Garden for NGS July - Sunday 23 July (2 - 5pm) * 2pm-5pm Every Sunday from April to September 2017, Every Wednesday from April to September 2017, Every Bank Holiday Monday from April to September 2017, Any time for booked parties and groups by prior arrangement. * Broughton Castle is a moated and fortified manor house near Banbury in North Oxfordshire. Set in parkland and built of the rich local Hornton ironstone, it was selected by Simon Jenkins as one of only twenty to be awarded five stars in his book England's Thousand Best Houses.
The Big Festival (Alex Jame's farm) * Kingham, GL56 0YG * 25-27th August * 13 Miles
Ball Colegrave- (seed and plants) * Milton/Adderbury * Trials Grounds will be open to the Public on the evening (to be decided) July from 16:00 – 20:00. *3.5 miles
South Newington * The South Newington Flower and Produce Show with Village Fete * 12th August * Walking Distance *
Fairport Convention * Music Festival * Cropredy, OX17 1PJ * 10th - 12th August * 10 Miles
Banbury Food Fair, & Flower/Produce Show * Market Place, Banbury * 20th August 10.30 – 4.30pm * 8 Miles *
Rollright Stones * Archaeology and family funday * Bank Holiday 28th August 11 – 5pm * 8 Miles *
Sponsored Ride + Stride for Churches  * Including South Newington, Churches across Oxfordshire are open with refreshments (some that are often closed to the public), see beautiful countryside, get some exercise and have fun with the family! Ride+Stride is a sponsored bike ride or walk in which people all over England walk or cycle between churches, exploring and enjoying the countryside. * Saturday September 9th *
Heythrop Zoological Gardens * Heythrop, OX7 5TU * only 3 days in Sept * 5.7 miles * http://www.amazinganimals.co.uk/open-days-local-community/local-community/ * Annual Open Weekend at Heythrop Zoological Gardens. Here you can see animals up close. The zoo is not open to the public except for three days in September
Banbury Old Town Summer Party & Street Organ Festival - Town Criers Championship * Market Place, Banbury * 2nd Sept * 8 Miles * Banbury town comes alive with the sounds of musical organs. See the organ grinders and Town Criers from all over the country in their spectacular finery
Chipping Norton Mop Fair * Town Centre, Chipping Norton * 3 nights September 4pm-10pm * 8 Miles *
Banbury Canal Day * Oxford Canal area, Banbury * 1st October 10.30 – 4.30pm * 8 Miles *
Banbury Mop Fair * Town Centre, Banbury * 3 nights Wednesday 21st- 23rd November 4pm-10pm * 8 Miles *
Banbury Christmas :Lights Switch on & Market * Town Hall, Banbury * 26th November 5pm * 8 Miles *
South Newington * Church * see the newly conserved "Doom Painting" and the nationally famous wall paints . * Go to our Video Gallery page to see them, a good website showing the paintings etc: BritainExpress.com page
Banbury Antiques Market * Market Place, Banbury * Held on the 2nd and 4th Thursday and 2nd Saturday every Month - 9am - 4pm. * Browse through a variety of antique and collectable items from jewellery to militaria, from clocks to collectables - and pick up a bargain!
Banbury Museum * Spiceball Park, Banbury * Monday - Saturday 10am – 5pm, Museum Shop: Monday, Tuesday, Thursday and Friday 8.45am – 5.15pm, Wednesday 10am – 5.15pm, Saturday 10am - 5pm * 8 Miles * http://www.banburymuseum.org/ *
Great Tew Village * Great Tew, OX7 4DB * 3 miles * Constructed by 19th century landscape gardener, John Loudon, as part of an extensive park overlooking the Worton Valley, Great Tew is often referred to as a 'picture book' village because of its charming thatched cottages and gabled roofs, mullioned windows and colourful gardens. - Location for Soho Farmhouse popular with lots of celebrities, Posh & Becks own a home here!
Spiceball Country Park * Banbury, Between the Oxford canal and the river Cherwell * 9 Miles *
Banbury Peoples Park * Bath Road, Banbury OX16 0TU * 8 Miles *
St Marys Church * Horse Fair, Banbury OX16 0AA * 8 Miles *
Oxford Canal Walks * https://www.oxfordshire.gov.uk/cms/sites/default/files/folders/documents/environmentandplanning/countryside/walksandrides/longwalks/OxfordCanalLeaflet.pdf * 6-7 Miles to Aynho road layby *
British Motor Museum * Banbury Rd. Glaydon, CV35 0BJ * https://www.britishmotormuseum.co.uk/plan-your-visit , Museum is open daily 10am - 5pm* 11 Miles
Waterfoul Santuary & Childrens Farm * Wiggington Heath, OX15 4LQ * http://www.waterfowlsanctuary.co.uk/index.htm * 2 Miles
Fairytale Farm * Oxford Road (A44)
Southcombe Chipping Norton OX7 5QH * open 10am to 5pm every day from 11th February to 24th December 2017 * http://www.fairytalefarm.co.uk/ * 6 Miles
Stowe * Buckingham, Buckinghamshire, MK18 5EQ * open Garden, café, shop and Parlour rooms 10:00 – 16:00, Park Dawn to dusk * https://www.nationaltrust.org.uk/stowe#Opening%20times * 19 Miles * The scale and beauty of Stowe have attracted visitors for over 300 years. Picture-perfect views, winding paths, lakeside walks and temples create a timeless landscape, reflecting the changing seasons. Full of hidden meaning, the gardens were created as an earthly paradise and still cast their spell today.
Charlcote Park * Wellesbourne, Warwick, Warwickshire, CV35 9ER * 19 Miles * 10.30-4pm* https://www.nationaltrust.org.uk/charlecote-park
Stow Flea Market * Edwards Hall, The Square, Stow on the Wold, GL54 1AF * 19 Miles * 10am-4pm see for dates (Saturday & Sundays) https://www.facebook.com/Stow-Flea-Market-and-Collectors-Fair-223996384338330/events?key=events *
Kifsgate Court * Chipping Campden, Gloucestershire, GL55 6LN * 19 Miles * open mostly all days Thursday & Friday see website * http://www.kiftsgate.co.uk/opening-times/ * Kiftsgate Court Gardens are spectacularly set on the edge of the Cotswold escarpment.
Upton House & Gardens * near Banbury, OX15 6HT * 11 Miles * National trust - open throughout the year see their website - https://www.nationaltrust.org.uk/upton-house-and-gardens
Farnborough Hall * Farnborough, near Banbury, Warwickshire, OX17 1DU * 13 Miles * Honey-coloured stone house with exquisite plasterwork and fine landscaped garden - open throughout the year see their website https://www.nationaltrust.org.uk/farnborough-hall
Sulgrave Manor & Gardens * near Banbury, OX17 2SD * 13 Miles * Sulgrave Manor is a Tudor and Georgian house built by direct ancestors of George Washington, the first President of the United States - open throughout the year see their website http://www.sulgravemanor.org.uk/
Blenheim Palace * Woodstock, OX20 1PP * 11 Miles * http://www.blenheimpalace.com/
CADA Antiques Fair - 30th March - 2nd April
Easter Weekend - 14th - 17th
AprilSpring/Summer Jousting Tournament * 29th April-1st May * 31July-2nd August
Food Festival - 27th - 29th May
Bloodwise Blenheim Palace Triathlon - 3rd - 4th June
Gifford's Circus * 8th-12th June
Nocturne Live - 15th - 18th June
Flower Show - 23rd - 25th June
The Pre '50 American Auto Club Rally of the Giants *9th July
Battle Proms Picnic Concert - 22nd July
BBC Countryfile Live - 3rd - 6th August
and much more